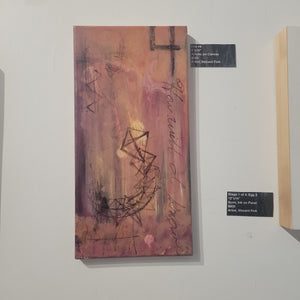 Dimensions: 8'' x 16"
Acrylic on Canvas
Tetrahedral array displaying its fire element attributes. The number 4 appears as the number of sides on a tetrahedron. Poem title written by the artist is also featured "How Will I Know".
FIRE SALE NOTES:
No soot effects to artwork. Just felt it was fitting to add to this collection.

Due to Winter St. arson fire bomb, some works are discounted for minor effects remaining of soot staining to the top edge of works. Only a few suffered damage to the front face of the art. Your support helps me rebuild.
Also please consider joining my patreon starting at the price of a cup of coffee:
https://www.patreon.com/vincentfink