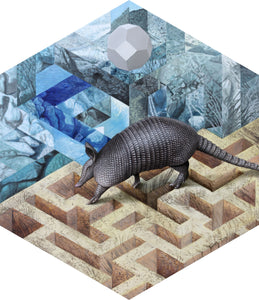 "Why Did the Armadillo Cross the Road?"
🚸
Well, the Armadillo has been around longer than roads, so the real question is, why did the road cross the Armadillo?

26" x 24" x 1.5"
oil, acrylic on hexagonal panel

It is part of a mini-series of geometric glitch paintings I've created where the environment seems to be in some sort of crystalline geodesic dome or prism creating distortions. As a result, this displacement of nature alludes to many things. Such as man's ability to mold the earth as he sees fit, along with the idea of the Holographic Principle.
Displacement can leave the wanderer lost in an unfamiliar place. It is important to help native species thrive where they belong. Because of this, the armadillo is attempting to cross the road to find it's way back home perhaps. Cracks in the foundation prove it to be most difficult and has created somewhat of a maze, albeit only for smaller creatures to explore.
I also have this artwork on stickers here at .506