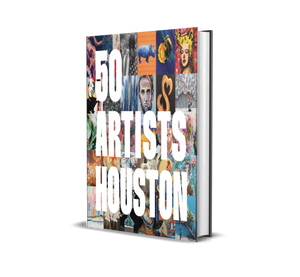 CLICK HERE to purchase a copy of "50 Artists Houston"
"50 Artists Houston", published in 2022, is a culmination of the Houston art scene, featuring over 400 pages of artwork by local artists.
Art can delight our senses and provide us with a feeling of comfort. It can share a message to encourage and inspire us. It can be a tool to communicate and discuss important issues in our society. Art can be a healing force. In creating, viewing and enjoying art, we find common bonds that connect us and help us better understand one another. Art is many things to many people, but the common denominator is that art is a profound form of experiencing and connecting with our society, our environment and ourselves.The Houston art community is a thriving entity that embodies that special experience and connection. "50 Artists" is a time stamp of the Houston art scene in the year 2022. It is a collection of artists and artwork that depict an age of building community and abundant creativity.