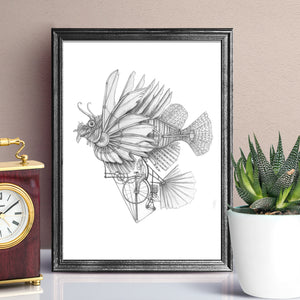 • Digital Print
• Dimensions: 5" x 7", 8.5"x11" or 11x14"
• Paper Type: Archival Acid Free 110lb. Classic Crest Card Stock.
• Print come unframed/unmatted and has extra space to allow for matting & framing.
• Prints are packaged in cellophane bags with cardboard on the front and back sides, and ships flat.
• Paper prints need to framed behind glass to protect against UV damage, moisture and dust.
• Made in the USA
The inner workings of the human brain is much like a bunch of tiny machines being run by tiny people inside a much larger machine being run by a much larger person.

Things to notice about the design and yourself:

There's two hemispheres that control different aspects of thought. One must try to balance them or suffer a life out of harmony. You can see the two hemispheres working together here. Even though they have different functions, they work in cohesive unison outputting steam.

Notice there is a spiral staircase that is leading into an impossible direction. It is in a very significant spot on the brain. Placed right over the 3rd-eye chakra, this spiral is a fractal portal into the the higher realms of consciousness.

Also notice there are cats stepping all over the controls and keyboards. Always. Damn cats!
Copyright © 2020. For personal use only. Not to be copied, distributed. altered or sold.